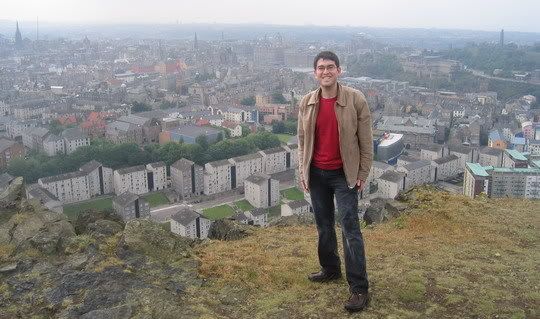 The amazing thing about this large 650 acres of charming wild land containing lakes, cliffs, hills and an extinct volcano is its proximity to the city centre of Edinburgh. Thanks to the lovely Kim for showing me the way and literally within 15 minutes of walking, I found myself leaving the hustle and bustle of city life and immersed in mist, muddy grass and majestic crags.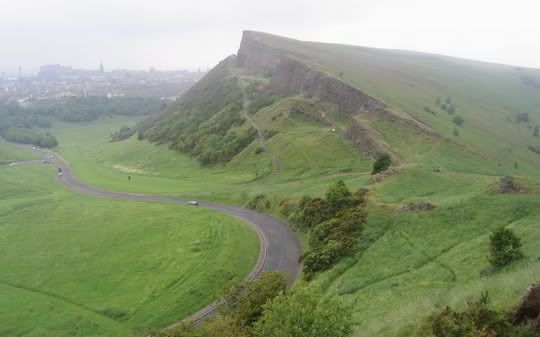 Soaked in sweat from the humidity I huffed and puffed my way to every single high point in the park, as is my habit of wanting to view things in a grand panoramic scale from up high, whether it be from Arthur's Seat or the Salisbury Crags.
Hikers hiked, picnickers picnicked and dog walkers dog walked in the refreshing mountainous air and quiet solitude. I have not come across a European city that allowed you to do all that and still make it back within an hour of walking to piss in a Starbucks toilet.
As I descended parched and hungry I avoided the monstrously exorbitant Holyrood Scottish parliament and made a detour for the Royal Mile. Running from the Palace of the Holyrood House at the bottom end and rising successively upwards towards Edinburgh Castle, this cobbled historical street draws a vast number of visitors from across the globe enunciating anything from gobbledegook German, impetuous Italian, flirtatious French, crazy Cantonese and North American English.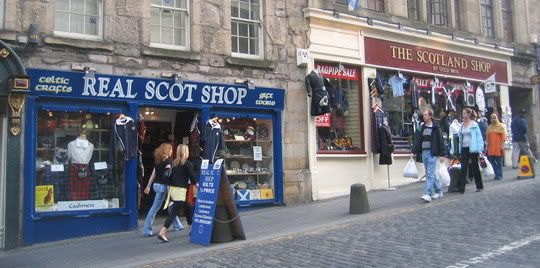 With the sound of bagpipes perfunctorily wafting through from many a tourist trap, it's the last variety of visitors that laps up all the authentic Scottish knick knacks brazenly displayed to lure the gullible and naïve. Colourful Kilts? Check. Bogus Bagpipes? Check. Scotch whisky? (it's an experience) Check. Your Family History for only £10? (ORLY?) Check. Kids swords and axes? Check. Loch Ness Monsters? (in 3D too!) Check. After all, there is no need to visit the rest of Scotland when a quick walk down one street covers it all!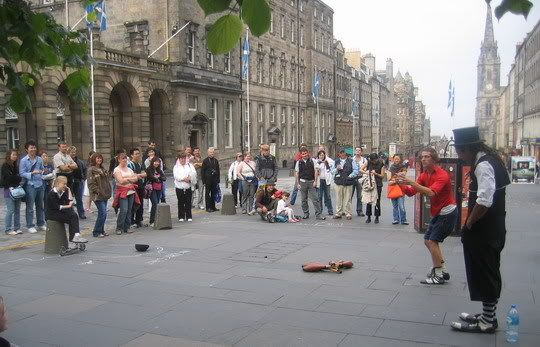 It was a lovely warm afternoon and street performers were out in force, tourists mingled with the locals and drinking glasses chattered from the cafes and bars. My snarling stomach made a detour for the mouth-watering
Fudge House
where a delectable array of neatly stacked blocks of condensed sugary goodness beckoned hypnotically at me from behind the glass display. Especially the words "Triple", "Dark" and "Chocolate". Mmmmmmmmmmmmmm.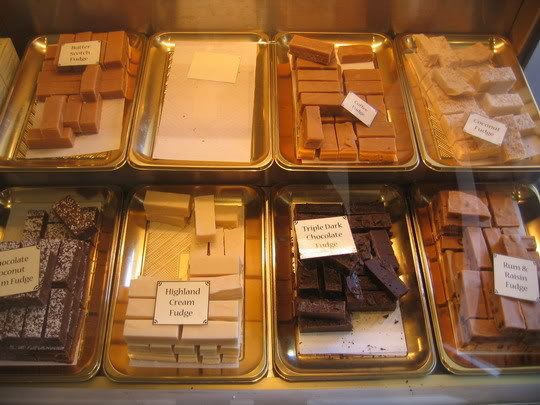 Paralysed by an array of displayed rectangular choices I asked what were the best sellers. The young lady explained that it varied from day to day. But usually it's the Triple Dark Chocolate
and
yada yada yada
….who cares? I was right!
Happy with my purchase, I walked away and ravenously devoured my saccharine ingot…OMG! It was sooooo gggggggggoooooood! I immediately back-tracked and apologized that I was really a chocolate fiend and asked what was the second best seller. Hazelnut chocolate. Hazelnut chocolate fudge it was. OMG. I swear, chocolate is the second best food invented. EVAR.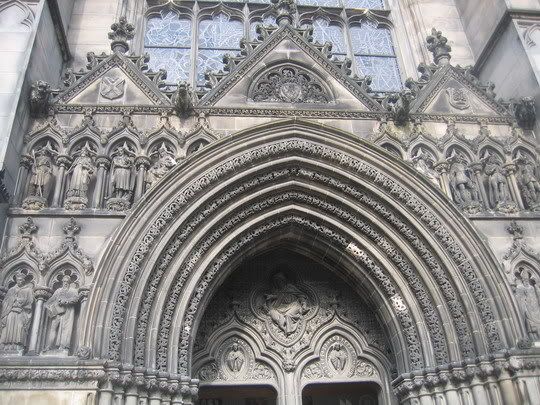 I've seen most of the historical gems on this beautiful street many moons ago thus I spent most of my time wandering from shop to shop and people watching. I did pop into the The High Kirk of St Giles to admire the stained-glass and austere interior and was fascinated by a photographic display contributed by locals on how they perceived their own city through the eyes of their cameras.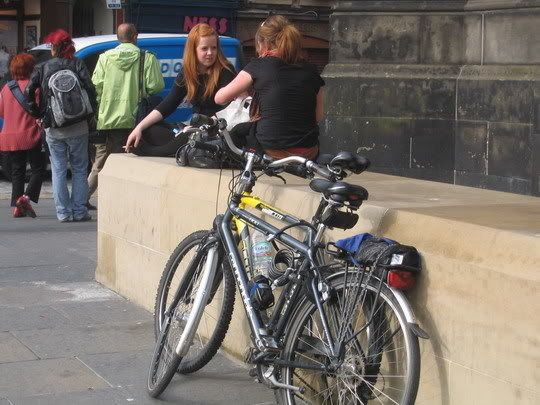 I checked out the Fringe shop and thumbed through the glossy programme for the upcoming festival and felt even more overwhelmed by the array of choices of events then at the Fudge House. I wended my way thoughtfully back to Waverley train station, past the television crew and photographers awaiting for God-knows-who to arrive on the platform.
Well, August here I come!